Thursday, June 15, 2023 - 4:00pm
OUR LANDSCAPE | ART AND AUTHOR SERIES
ARTWALK | BEAUTIFUL WOUNDS | Timothy Connor - Carved and scoured by catastrophic floods at the end of the most recent ice age, the Channeled Scablands of eastern Washington State dazzle with their harsh beauty and the diversity of their natural features, including great waterfalls, sprawling canyons, and cinematic palisades. In this pictorial love letter to the region, writer and photographer Timothy Connor expertly combines stunning images, engaging field notes, historical narrative, and a touching personal sojourn. His photography captures the sweeping horizons, braided wetlands, and vibrant wildlife, while his words examine the once-mystifying landmarks of the area through the story of J Harlen Bretz, the geologist who, in the 1920s, first suggested that massive floods formed the Scablands' epic cataracts and inexplicably deep lakes. Incorporating the poignant story of Connor's own journey of grief, Beautiful Wounds offers a moving, visual tribute to the enduring power of nature and the healing power of time. Join us for a photography show and book signing with photographer and author, Timothy Connor, Thursday, June 15, 2023, beginning at 4pm during ArtWalk.
Timothy Connor is a journalist and photographer. He has contributed to the Portland Oregonian, Longview Daily News, Seattle Weekly, Washington Law & Politics, and Bulletin of the Atomic Scientists. He lives in Spokane, Washington.
---
Event address:
BookPeople of Moscow
521 S Main
Books: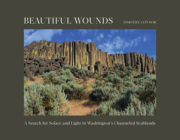 $35.00

ISBN: 9781682686805
Availability: This book was in stock at the store 24 hours ago but could have sold since then. Please call to confirm if your order is urgent.
Published: Countryman Press - May 10th, 2022
A lush, photographic journey through the origins and cataclysms of one of America's most enigmatic natural treasures.
---