In the Kingdom of Men (MP3 CD)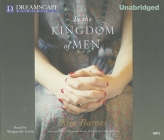 $29.99
We can get this book for you, usually within two days.
Description
---
1967. Gin Mitchell knows a better life awaits her when she marries Mason McPhee. But nothing can prepare her for the world she and Mason step into when he takes a job with the Arabian American Oil company in Saudi Arabia. In the gated compound of Abqaiq, Gin and Mason are given a home with marble floors, a houseboy to cook their meals, and a gardener to tend the sandy patch out back. Even among the veiled women and strict laws, Gin's life has become the stuff of fairy tales. But when a young Bedouin woman is found dead, washed up on the shores of the Persian Gulf, Gin's world closes in around her, and the one person she trusts is nowhere to be found.
About the Author
---
Kim Barnes is the author of three novels and two memoirs, one of which was a finalist for the 1997 Pulitzer Prize. She is coeditor of two anthologies, and her essays, stories, and poems have appeared in a number of journals and anthologies, including the Pushcart Prize Anthology. She teaches writing at the University of Idaho and lives with her husband, the poet Robert Wrigley, on Moscow Mountain. READER BIOMarguerite Gavin has recorded over three hundred audiobooks in nearly every genre. A nominee for the prestigious Audie Award, she was won both AudioFile Earphones and Publishers Weekly Listen-Up awards. AudioFile magazine says "Marguerite Gavin is an accomplished storyteller...with a sonorous voice, rich and full of emotion, she easily delivers wry humor and moves smoothly from accent to accent, recalling multiple characters perfectly." She lives with her family in the Washington, D.C., area.