Sábado de súper castillos: Super Sand Castle Saturday (Spanish Edition) (MathStart 2) (Paperback)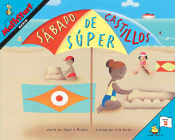 $5.99

Depending on which warehouse this is in, we can usually get this book to the store for you within a couple of days.
Other Books in Series
Description
---
This high-quality Spanish-language book can be enjoyed by fluent Spanish speakers as well as those learning the language, whether at home or in a classroom.
The MathStart series has sold over 1.5 million copies and combines math with fun stories that have real-life applications. In Sabado de super castillos, a Level Two MathStart, children learn that it is helpful to use standard units of measure to make accurate comparisons.
Tres amigos compiten en us concurso de castillos de arena para ver quién construye la torre más alta, el foso más profundo y el muro más largo. Bajo la atenta mirada de Larry, el salvavidas, construyen súper castillos de arena y también aprenden a medir.
About the Author
---
Stuart J. Murphy is a visual learning specialist. A graduate of the Rhode Island School of Design, he has a strong background in design and art direction. He also has extensive experience in the world of educational publishing. Drawing on all these talents, Stuart J. Murphy brings a unique perspective to the MathStart series. In MathStart books, pictures do more than tell stories; they teach math.
Stuart J. Murphy and his wife, Nancy, live in Boston.
Julia Gorton has loved to get wet since her days as a teenage member of the Aquaettes. A local synchronized swim team. She is still passionate about water and is working to get a community pool built.
For a decade she has been delighting children with her inspired illustrations and dazzling designs. Her work can be found in the Science Play book I See Myself by Vicki Cobb, the MathStart book Super Sandcastle Saturday by Stuart J. Murphy, and Ten Rosy Roses, by Eve Merriam. Julia Gorton lives in a sprinklerfilled community in New Jersey with her husband, author-illustrator Daniel Kirk, and their three children, who splish and splash all around the town.